Skill Building for Facing Change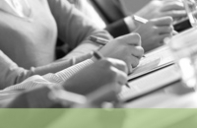 Problem: A University program dedicated to building capacity in the nonprofit sector recognized that the magnitude of change faced by the sector. They decided to focus on providing executive directors with the opportunity to step away from their duties for 3 days to be exposed to skills and approaches that would help them to manage the changes faced by their organizations.
Solution: Fio Partners, LLC created the curriculum for Facing Change and brought 25 executive directors from smaller nonprofits through an educational experience that began with understanding how their natural tendencies influence their own approach to change using the Meyers Briggs Type Indicator. Participants also learned Fio Partners' model of strategic management, as well as retrenchment planning, and were provided with an overview of options and strategies for creating strategic alliances. At the request of participants, material was created on site to help these executive directors dealing with Board problems.
Back to Top